Testimonials
Sam Kimbriel - FulCircle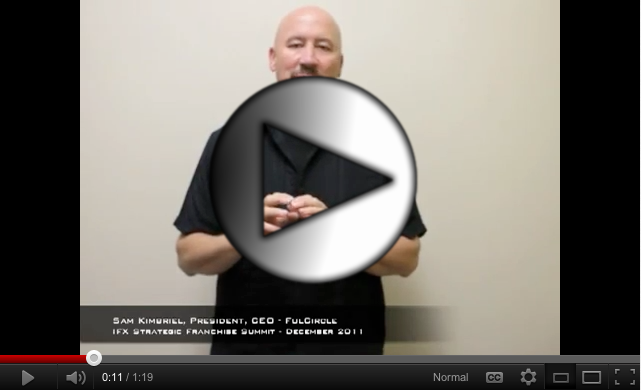 Rob Marlatt - Allied Solutions

Dan was awesome on our call -- almost more excited about our product than we were! Dan knows his stuff and his input and insight have been beyond our being able to put a price tag on. The best money we could ever spend! It will take our product viral/nuclear in the Franchise channel! We should be one of Dan's best references and cheerleaders! Cannot put into words the tremendous value he has brought to our efforts. [Dan] knocked it out of the park!
Bill Herring – OLINS Group
It was definitely worth the trip to the summit, I'll be going back in December. It was well managed, fun, and entertaining. My "Ah Hah" moment was when I realized that what we do in the non-franchise channel is the same as what is needed in the franchise channel, only there are different buzz words. The problems are the same because in the financial world we service distributed operations (centrally owned and operated that happen at one or two locations and are not centrally owned – this is how franchises worked) – we can convert things we already know by re-naming them. I also learned there are other people in the business with similar problems as ours.
We made some key contacts with people in the franchise chain we can partner with. We picked up strategic approaches from Dan and are modifying a number of things to tighten up how we approach certain operations as a result of learning at the Supplier Summit.
Steve Givens – FulCircle
I found the summit to be a very informative and a great networking venue. IFX has a tremendous understanding of the franchise industry and is able to easily convey usable strategies and tactics to grow your business. I walked away with usable strategies that will increase our value proposition within the franchise industry.
The Summit is a great place to meet C level strategic contacts. The format of the Summit is designed to encourage strategic networking--and we have developed a number of strategic partnerships as a direct result of the Summit.
We are in the process of implementing a number of the sales and marketing strategies that we learned at the summit. The information learned at the Summit is easy to apply to any business and will pay significant dividends.
We have used and will continue to use many of the strategies outlined in the Summit. This was a game changer!
- Jason Yost
Jason Yost - Fetch Graphics

The IFX Supplier Summit was a great event. We were able to expand our knowledge of the franchise market as well as meet some great new connections. It was well worth it for every supplier who deals with franchising, new or old.
There were several "Ah Hah!" moments but I have to say that our main revelation was when we learned more about ad funds and how they are being utilized and not utilized. We were able to take what Dan was talking about and the real world experiences from the other attendees and create a strategy specific to our company.
We made lots of great connections at the Summit. We have already started talking with some fellow attendees about creating strategic partnerships that will allow us to market additional services to our or clients. Not to mention that one of the attendees may actually become a client as well!
We have used and will continue to use many of the strategies outlined in the Summit. There are too many to mention but this Summit was an eye opener for us and showed us exactly what we have been doing right. This was a game changer!